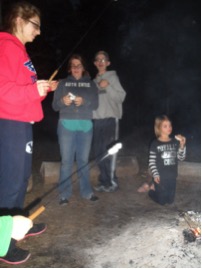 I made s'mores in the
Microwave today,
By myself,
Graham crackers—chocolate—marshmallows,
Leftovers from a family picnic,
Though I admit to buying more chocolate.
It took only milliseconds
For the marshmallows to swell and soften,
The chocolate to wobble and spread,
All the ingredients were present
For the anticipated sweetness.
Yet there was not much satisfaction,
Without red coals burning,
Marshmallow flame outs,
Children laughing,
Grown-ups talking,
Cool evening air,
And each of you there!
Cerita M. Hewett
October 2008