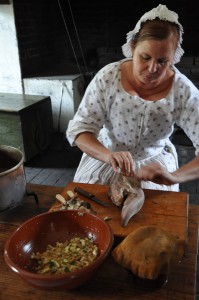 O woman of 1776 what was your pain, your travail,
What mighty labor did you perform,
When freedom's child was born?
We know of Martha Washington how she came to Valley Forge,
Of Jane Adams' sacrifice and her kindly charm,
But what of the women of '76 in the cottage or on the farm?
How did you farm with your man at war,
Did you milk with the boys away,
Who sheared the long wool from your sheep on shearing day?
Could you send the news of the baby born,
The daughter or son so fair,
Did you choose a name he would have liked, if he'd been there?
As you knit the socks and cared for the child,
Did you long for the battle line,
Could you imagine the glory of America free in time?
What news did you hear from Valley Forge,
Or the river Delaware,
Was the battle won or lost and how did your loved one fare?
Who helped you open the shop each morn,
Who sold the goods, counted the pay,
Did you sweep the floor before you "closed" for the day?
As you lighted the lamps when the night was near,
Could you hear the cannon roar,
Were you trembling to know how close they came to your family door?
What did your heart feel day on day,
Did it hold both fear and faith,
How did you bear the somber news of a dear one's wound or death?
On the first of the week as you went to your church,
Did you sing and think and pray,
Did your heart cry out to Him all through the Sabbath day?
There's not much written about you my dear,
The history pages are thin,
But when men fight for freedom true, the women must help to win!
Oh woman of 1776 you minded the shop and the farm,
You loved and cared for the children small,
You worked, you prayed, you did it all!
So when he came if that he could,
That loved one all battle worn,
He found you and the children, safe at home.
Cerita M. Hewett
July 1976 (revised 2015)