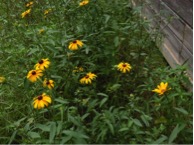 They are building another new house
Where the wildflowers bloomed.
The red clay dirt has been scraped,
Trenches scored for footings.
The indian paint brush, black eyed susans,
And fire wheels have disappeared
Soon cement, studs, and flooring
Will occupy that space.
After the brick and inside work,
Green sod will fill the yard.
Maybe a swing set with laughing children
Or dog run will appear.
In a year or two daffodils,
Yopon holly, canna lilies, or elephant ear
Will soften the rigid red brick.
Marigolds or impatients
May line the walks.
Perhaps they will plant a flowering pear tree.
I cannot wander that path anymore.
Now I must walk on a road.
Cerita M. Hewett
June 10, 2002