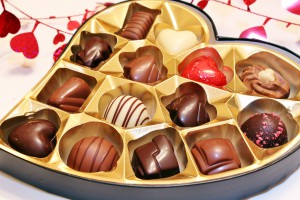 You brought a heart-shaped box of chocolates,
I don't remember you doing this before,
It was the perfect gift this year
After so much sacrifice and service.
I opened it,
We smelled its richness,
We read all the descriptions of each specialty,
Peanut cluster, mint, caramel, pecan, vanilla nugget,
Then I suggested we each pick one to eat,
You remarked, "I bought them for you."
I answered, "Eating alone is no fun."
We each ate three,
Laughing, reveling, declaring their goodness,
Savoring the shared valentine moment.
Reluctantly we closed the glossy lid,
I washed the supper dishes in the glow of
Our heart-felt box of chocolate happiness.
Cerita M. Hewett
Feb. 14, 2013
Revised 2014